«
Net Ent Launches New Mobile Live Dealer App
|
Woman Busted for Past Posting in Blackjack
»
Wizard of Odds Gives Blackjack Tips to Las Vegas Sun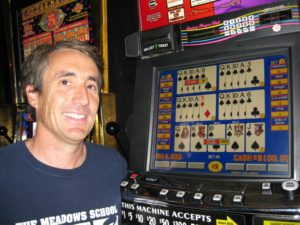 Renowned casino game analyst Michael Shackleford (also known as the Wizard of Odds) has provided an array of helpful blackjack tips to the Las Vegas Sun newspaper, offering insight that every player visiting the tables should know.
The Wizard is the purveyor of our sister site Wizard of Odds, and he provided the Las Vegas Sun with a bunch of information on how to maximize your odds of success at the popular card game. Among his advice was:
Don't ever play 6:5 games
Never take insurance
Surrender a 16 against a 10 if you're allowed
Never make side bets, as they're all sucker bets
Double down on a soft 13 through 18 against a medium dealer 4 through 6
A lot of these are common sense, but not all players will understand the surrender or double down rules. Blackjack is incredibly popular throughout the world, as it is simple to play and has a relatively low house edge.
Shackleford has become known as the Wizard of Odds over the past twenty years, as he has listed odds for games like slots and posts strategy guides for table games. He is also known for coming up with the Most Popular Baby Names lists, which is accessed by people throughout the world.
This blog entry was posted on Monday, May 22nd, 2017 at 4:51 pm and is filed under Blackjack News.